Propane Refill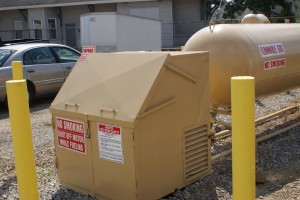 Utica Feed & Hardware of Utica, Ohio, provides safe and fast propane refills.
Propane, or Liquefied Petroleum Gas (LP-Gas), is currently one of the most versatile sources of energy in the nation. Propane is a "safe fuel" that serves around 60 million people in the United States.
Did you know that refilling propane cylinders is cheaper than exchanging them? Well it is. If you exchange your tank, you are given no credit for any propane remaining in the cylinder that you are exchanging. If you are looking for a way to save money on your propane cylinder refills, stop at Utica Feed & Hardware, in Utica, Ohio.
At Utica Feed & Hardware, we refill a wide variety of propane cylinder sizes, including some of the odd-sized cylinders. We know that propane is not just for grilling out in the summer time, even though that might be one of the most popular uses. Portable propane cylinders have several convenient uses, which include patio and tent heaters, motor homes, campers, propane forklifts, and more.
Stop by Utica Feed & Hardware, and let one of our certified professionals refill your propane cylinder today, and know that you will only pay for what you need.