Grub Boots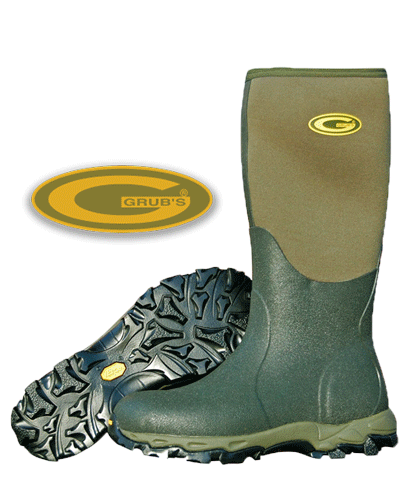 What makes Grub Boots so great?
That's easy… it's all in the design. Grub Boots are 100% waterproof, which keeps your feet warm and dry even in the harshest conditions. Grub Boots are also naturally lightweight so they don't weigh you down. With so many options to choose from, you can be sure to find the perfect fit for your overworked feet.
Get down and dirty while hunting, gardening, doing home repairs, farming, hiking, shoveling snow…..it doesn't matter how tough the job, these workhorse boots are loaded with extras and ready to tackle your dirtiest jobs.
A breathable lining sweeps moisture away, keeping your feet fresh and dry. A rubber-reinforced foot offers lightweight waterproof protection, while the snag-resistant nylon shaft hugs your calf for added warmth. The best part? When your work's done, just rinse them off.
Come on in today to see our large selection of Grub Boots….and if we don't have the one's you want, we can have them next-day delivered for your convenience.